Get the Compensation You Deserve
Most often, injury victims could not have foreseen an accident. Whether you were injured in an automobile collision or by a defective or dangerous product, the incident probably took you by surprise. When you've suffered an accident due to someone else's negligence, you deserve fair compensation for your medical bills, lost wages, and pain and suffering.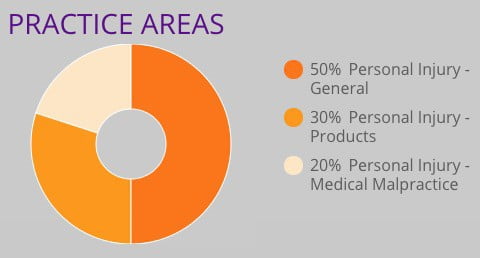 Thorough and Personalized Counsel
AttheDaniels Law Firm, we work with you every step of the way and ensure no stone is left unturned when building your case, so you get the compensation you deserve.  We thoroughly investigate and work up every case as if it will go to trial and we achieve the best possible outcome for you.
Meticulousinvestigative work
Assistance getting the medical treatment you need
Obtain witness statements
Detailed reconstruction of the accident scene
Order, collect and submit medical records and bills for related treatment
Easy and frequent communication
Tough negotiation with insurance companies
Aggressive representation in court
Tragically, ten people die each week from car accidents in Arkansas. Hundreds are injured every month. If you or a loved one is a victim of an auto accident, we can help. Learn more about automobile accidents. (links to page)
Arkansas is lined with countless highways that trucking companies use as major routes. I-40, I-49, and I-540 are just a few examples. If you were injureda truck accident and need representation, call us today. Find out more about truck accidents. (links to page)
Motorcycle accidents are often times more serious and fatal than car accidents. Even with protective gear, the sheer velocity of impact can mean devastating injuries. Learn more about how we can help you if you or a loved one has been in a motorcycle accident. (links to page)
Losing a loved one is extremely painful no matter the circumstances. Whenyou suffer a loss due to the negligence or recklessness of another person,it can feel even worse. We've represented countless families to obtain justice for the loss of a loved one.Let us help you.Find out more about Wrongful Death. (links to page)
Finding the right nursing home for your elderly parent or loved one can be a challenge. There's always the fear that they won't be cared foras promised. If you suspect your loved one is a victim of abuse or neglect at a nursing home or assisted living facility, call us today. Learn more about Nursing home abuse & neglect. (links to page)
A catastrophic injury changes your lifeforever. These injuries can be anything from spinal cord injuries and paralysis to severe burns and loss of eyesight. If you or a loved one has suffered catastrophic injury and need legal counsel, we have the experience to help you navigate the legal systemand get the justice you deserve. Find out more about catastrophic injury.
Every day, we use and encounter countless products. We rely on products to make our lives easier and more efficientwhether its household products, vehicles, work equipment or others. Whena product is defective,it can cause severe injury or death. If you or a loved one has been injured by a defective or dangerous product,we can help. Learn more about product liability. (links to page).
Commercial and residential property owners have a legal responsibility tomaintain their premisesin areasonably safe condition.  Unsafe conditions can lead to serious injuries. If you or a loved one has been injured due to hazardous conditions on someone else's property,you may be entitled to financial compensation. Find out more about Premises Liability (Slip & Falls). (links to page)
DanielsLawFirm has vast experience in handling a wide variety of complex commercial cases across a broad range of industries. We can represent you in all categories of business litigation including contract disputes, trade secret misappropriation, breach of fiduciary duty, employment disputes and more. Learn more about how we can help you with commercial & business litigation. (links to page)